I use a HP Microserver N40 for use at our office.   Its a great peice of kit that I have had for a number of years and is used for a variety of purposes such as NAS, Media Sharing, Print/File Server and Virtual Machine host…
I recently decided to upgrade from Windows Home Server 2011 to Windows Server Essentials 2012 R2, as well as some hardware upgrades.
Sadly i found that Essentials 2012 R2 does not have a driver availible so support for this RAID card is not possible.  One thought was to use the Server 2008 R2 X64 driver but sounds a bad idea to me.   I then decided to look at using Windows Server Storage Spaces which is a technology Microsoft have been working on for a long time.  I had 2 x 4TB WD Green and 2 x 2TB WD Green drives in the 4 way SATA bay.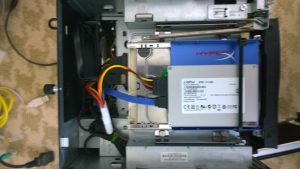 Not wanting to install the OS on the 4TB drives, I decided to make use of a spare SSD.  This was then connected to the motherboard SATA port.
I then realised there is an E-SATA port on the rear of the server.   With a bit of a Heath Robinson hack I managed to get this routed internally and then into a spare hot swap 3.5″ bay I had spare that I installed into the CD Drive 5 1/4″ bay.  The mod was to bend the left edge of the flap that covers the PCI slot screws outwards with a multitool which allows the E-SATA cable to be routed internally.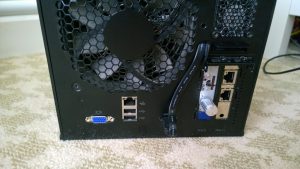 A quick addition of a SATA power splitter and job done.   Six drives in a four drive server !
I need to make sure recovery will work storage spaced going forward but the Heath Tools in Server Essentials seem to to quite good so time will tell.
Looking good so far….